The Early Childhood Education program is designed to have you job ready for employment at a child care center.
Apollo's Adult Early Childhood Education, a highly accredited program recognized by the United States Department of Post-Secondary Education, is a key stepping stone on the path to career advancement. It's designed to prepare students to successfully complete the requirements for the national recognized Child Development Associate (CDA) credential. Coursework is Ohio Approved/SUTQ (Step Up to Quality) and includes Communicable Disease, Child Abuse, First Aid, and CPR.
When you obtain your CDA through Apollo you will know how to nurture the emotional, physical, intellectual, and social development of children birth to five years old.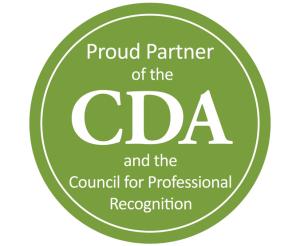 Benefits of the Child Development Associate (CDA) Credential
Job ready upon completion of the program
Advance your career and salary
Reinforce your commitment to early childhood education
Increase your confidence
Become a childcare teacher, child care provider, preschool teacher or childcare center director
Requirements
18 years of age
High school diploma or equivalent
FBI/BCI background check
600 Hour Class
Students receive 120 hours of high-quality classroom training and 480 hours of required practical experience in paid/unpaid student teaching at an area child care center. Hours will vary. A routine physical, immunizations and a criminal background check are required prior to taking part in the practical experience. Tuition includes textbooks, supplies, communicable disease training, first aid, CPR, child abuse prevention training and the cost of the CDA exam. Upon successful completion of the ECE program, the student will be eligible to test for the CDA credential.
You may be eligible for full financial aid to cover the cost of the entire program.
120 Hour Class
This option is for those students seeking 120-hour high-quality classroom training only. It does not include the required practical experience. The student is responsible for the additional 480 hours of documented fieldwork to test for the CDA credential. Tuition includes textbooks, supplies, communicable disease training, first aid, CPR and child abuse prevention training.
---
ECE 600 Hour Schedule
Start – End: September 10, 2020 – May 20, 2021
Days: Thursdays, plus some additional days
Time: 6:00 p.m. – 9:00 p.m.
Total Hours: 600 hours (37 weeks; 480 childcare center hours and 120 classroom hours)
Total Tuition & Fees: $3,748 *Includes the cost of CDA Exam
ECE 120 Hour Schedule
Start – End: September 10, 2020 – May 20, 2021
Days: Thursdays, plus some additional days
Time: 6:00 p.m. – 9:00 p.m.
Hours: 120 classroom hours will be provided. (Student is responsible for an additional 480 hours of documented fieldwork prior to end date to obtain completion certificate and CDA.)
Tuition & Fees: $1,200
(Payment plans may be available upon meeting with Financial Aid Manager)
Program Manager
Wendy Fannin
Early Childhood Education